Northwest Sportfishing Industry Association and 3 Rivers Marine
invite you to join us for an evening of food, spirits and camaraderie.
This NSIA Washington PAC fundraiser will be held at 3 Rivers Marine
on March 31st at 7:00pm.
We encourage you to come show your support for the sportfishing industry.
Register soon as space is limited!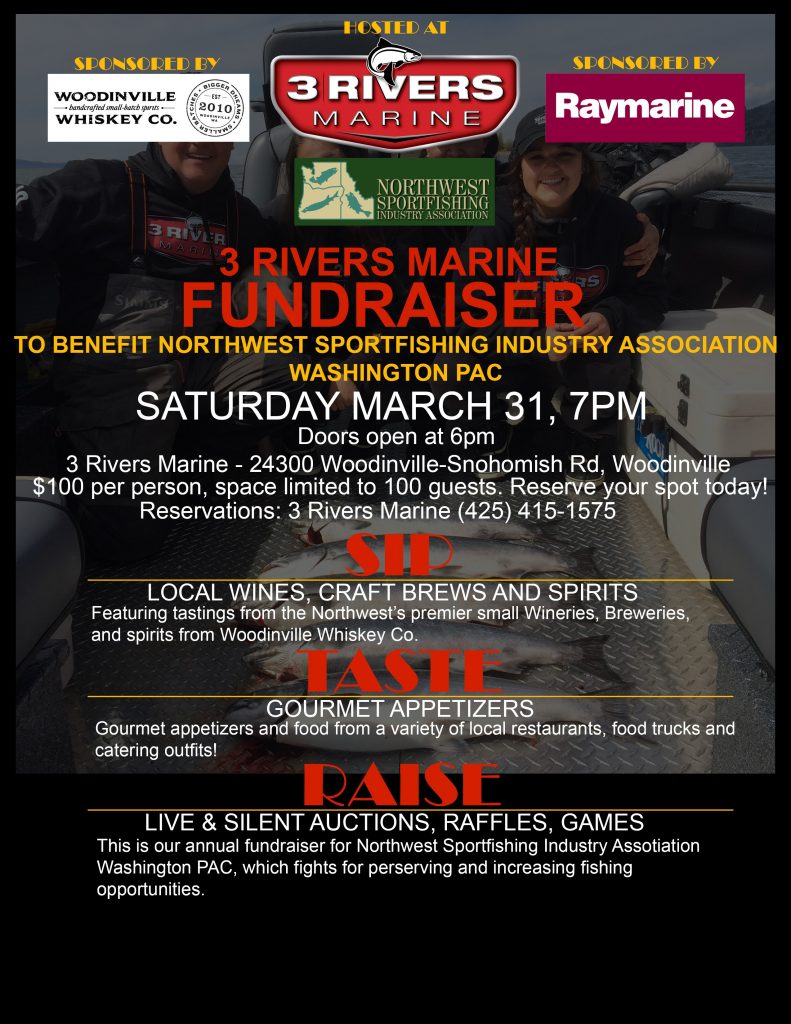 For those unable to attend who would like to demonstrate support of our efforts in other ways,
we are still happily accepting donations for the auctions and raffle.
Please contact 3 Rivers Marine at 425-415-1575 to arrange donations.
Our goal at NSIA is to keep our finger on the pulse of local, state, and federal governments, following the issues that matter, so our members can focus their efforts on growing their businesses. NSIA works to preserve, restore, and enhance our world-class sport fisheries, and we have shown that by investing in fish runs, the bedrock of the sportfishing industry, everyone benefits.
The protection and restoration of fishery resources and the protection of the rights of sports anglers requires strong leadership from our elected officials. The future of healthy sport fisheries in the northwest depends entirely on having advocates in state wide and local office who share our vision of the environmental, cultural and economic benefits that sport fishing represents.
The Northwest Sportfishing Industry Political Action Committee (contribute here!) can and does give money to candidates who will be leaders in protecting and growing our fishery resources, and the sport fishing and tourism industries dependent upon healthy watersheds.
The NSIA Washington PAC works for you by:
Informing & engaging elected officials
Increasing sportfishing awareness
Growing fishing opportunities