Who is NSIA?
The Northwest Sportfishing Industry Association was founded in 1993 by a collection of sport fishing industry business leaders who understood the need for a strong voice in the local, state, regional and federal governments. NSIA is not a sports club but an industry lobby group, with lobbyist in both Washington and Oregon, representing the business interests of the many members that depend on the sport of fishing for their livelihoods.
"I've been a member of NSIA since it first formed and want you to know how proud I am of our many accomplishments. NSIA has lead the way in every major fishing issue in the Northwest; and we have done it by partnering closely with other groups, listening to member needs and working the political process in an organized and disciplined way. Help us continue to deliver by joining." Buzz Ramsey
"Kershaw Knives joined NSIA for the health of the industry, but in my heart I do it to insure that there are salmon and steelhead for future generations to fish for." Steve Grutbo Regional Sales Manager Kai-USA Ltd. Kershaw Knives, Shun Cutlery, Zero Tolerance Knives
Success is no Accident!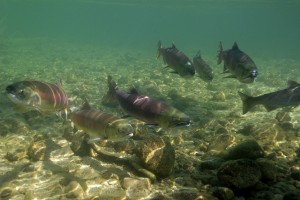 NSIA is involved in every major salmon, steelhead, sturgeon and shellfish fisheries issue across the region. NSIA is also involved in the full range of other fishing and fishery-related issues and weighs in on the spectrum of concerns that can affect wild fish recovery, seasons, harvest and the future of all fishing interests in the N.W.
The successes we're enjoying today are the product of years of persistence and hard work. For us to continue this long string of success and to tackle the daunting challenges ahead we need your support. Your membership, participation and financial contributions are the energy that fires NSIA and our collective efforts to grow sportfishing across the northwest.
"If not for the good people within NSIA, our industry would simply not have a voice in the decision making arenas that control our future." Dan Grogan, Fisherman's Marine & Outdoor