Register now for Buoy 10 Salmon Challenge
By now most of you have heard the news that we can expect 1.6 million fish back this fall. Now is the time to save your spot for the Salmon Challenge in Astoria on Friday, August 22.
Register today and then save your campground or hotel room.
Less than a month to Fisherman's Marine & Outdoor Spring Fishing Classic, April 5
This year is sure to be classic! Sign up now to save your spot in the April 5 fishing derby that is always a good time. This year we are at the Holiday Inn Portland Airport, and with the derby starting a week later, we are confident there will be great fishing. Sign up your team for the event now!
Join NSIA to continue the trend of increased fishing
Success is no accident and by supporting the Northwest Sportfishing Industry Association you can help us increase sport fishing opportunities in Oregon, Washington and Idaho.
Whether it be increasing the allocation of salmon anglers receive, opening more days for crabbing on the Puget Sound, or keeping hatcheries open, the NSIA is constantly working to make sure there are plenty of reasons to hit the water, year round. Join today to have an advocate for you.
Latest News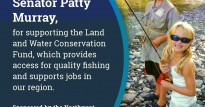 NSIA wants to enthusiastically thank US Senator Patty Murray for her recent co-sponsorship of Senate Bill 338, bipartisan legislation which provides full and dedicated funding for the Land and Water Conservation Fund. On the 50th anniversary…
Events
Location:
Hawks Prairie Golf Course | Lacey, WA
Location:
Camp Rilea - Warrenton, OR
Location:
Twin Lakes Golf & Country Club