Willie Boat Raffle!
Get your 2015 Willie Boat Raffle Ticket! Only $5 for a chance to win a Willie Boat. Drawing will be held on April 4, 2015 at the Kliever Memorial Amory. Purchase tickets at three Fisherman's Marine & Outdoor locations: 1900 McLoughlin Boulevard, Oregon City, 1120 N Hayden Meadows Drive, Portland, and 10355 SW Cascade Avenue, Tigard. OR call 503-631-8859 to get your ticket.
Keeping Public Lands in Public Hands
As many of you know, Congress has been selling off public lands. These lands, which directly relate to our customers, need our help. Sign NSIA's letter to Senator Patty Murray to keep fighting for LWCF funding and the protection of our public lands.
Join NSIA to continue the trend of increased fishing
Success is no accident and by supporting the Northwest Sportfishing Industry Association you can help us increase sport fishing opportunities in Oregon, Washington and Idaho.
Whether it be increasing the allocation of salmon anglers receive, opening more days for crabbing on the Puget Sound, or keeping hatcheries open, the NSIA is constantly working to make sure there are plenty of reasons to hit the water, year round. Join today to have an advocate for you.
Latest News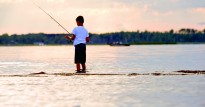 Priceless Public Lands, Public Access Threatened by Senate Budget Resolution "Vote-a-rama"   Northwest Sportfishing Industry Association joined with U.S. Senators to highlight threats to America's public lands heritage WASHINGTON — Americans of all political…
Events