Action Alert: Gillnets
Most of you know that Oregon is in rulemaking and Washington is in policy development to change the status quo harvest and hatchery management in the Lower Columbia River. There are several critical meetings ahead between us and the finish line. Please join us and help support this important reform!
3rd Annual NSIA Golf Tournament
The 3rd Annual NSIA Golf Tournament will occur on Thursday, June 13, 2013. The event is hosted by The Golf Club at Hawks Prairie in Lacey, WA. In addition to 18 holes of premium golf, other opportunities include a putting contest, silent auction, bucket raffle and oral auction during a barbecue dinner.
The number of teams are limited. Register now!!!
Latest News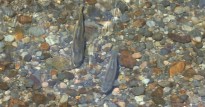 January 16, 2013 The Coastal Conservation Association's Efforts Result in a Big Win for Salmon and Anglers By Jim Hendricks Related Tags: News, CCA, Columbia River, Gillnets, salmon, Washington fishing Email Print Share Comment Enlarge Courtesy NOAA Fisheries Washington and Oregon Move…
Events