2016 Event Schedule
It's never too early to start thinking about NSIA's events coming up in 2016. Whether you will be fishing either of our salmon tournaments in the coming year or attending any of the banquets, we're excited to see you in 2016.
Temporary LWCF Renewal Bittersweet for Sportfishing
Congress passed an omnibus budget package that renews the Land and Water Conservation Fund until 2018. That is unfortunate because it is a shame to see Congress using programs like LWCF that benefit sportfishing as haggling pieces.
Join NSIA to continue the trend of increased fishing
Success is no accident and by supporting the Northwest Sportfishing Industry Association you can help us increase sport fishing opportunities in Oregon, Washington and Idaho.
Whether it be increasing the allocation of salmon anglers receive, opening more days for crabbing on the Puget Sound, or keeping hatcheries open, the NSIA is constantly working to make sure there are plenty of reasons to hit the water, year round. Join today to have an advocate for you.
Latest News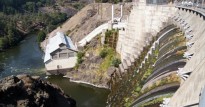 At NSIA we are very excited that the stakeholders on the Klamath River have received a much-needed boost towards their agreement to remove the four lower dams on the river that block salmon from returning…
Events