Spring Fishing Classic Raises Funds for Sportfishing, Hatchery Lawsuit
More than 200 dedicated anglers came out Saturday April 9th to fish the 24th Annual Spring Fishing Classic presented by Fisherman's Marine and Outdoor. We raised nearly $60,000 that will go towards creating and protecting sportfishing opportunities, and thanks to the generosity of our sponsors and donors, we were able to give away thousands in prizes to tournament participants.
Agreement Announced on Klamath Dam Removal
After a plan years in the making to tear down the dams on the Klamath failed in Congress, a new agreement was recently struck that will allow salmon passage to their spawning grounds in nearly a century.
Join NSIA to continue the trend of increased fishing
Success is no accident and by supporting the Northwest Sportfishing Industry Association you can help us increase sport fishing opportunities in Oregon, Washington and Idaho.
Whether it be increasing the allocation of salmon anglers receive, opening more days for crabbing on the Puget Sound, or keeping hatcheries open, the NSIA is constantly working to make sure there are plenty of reasons to hit the water, year round. Join today to have an advocate for you.
Willie Boat raffle winner is ticket #3198
Latest News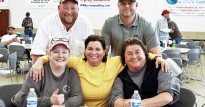 24th Annual Spring Fishing Classic presented by Fisherman's Marine and Outdoor Raises Funds for Hatcheries, More Sportfishing Opportunities More than 200 anglers came out this past Saturday April, 9th for the 24th Annual Fisherman's…
Upcoming Events