24th Annual Spring Fishing Classic
Time: 4:30 P.M.
Location: Camp Withycombe

24th Annual Spring Fishing Classic presented by Fisherman's Marine and Outdoor Raises Funds for Hatcheries, More Sportfishing Opportunities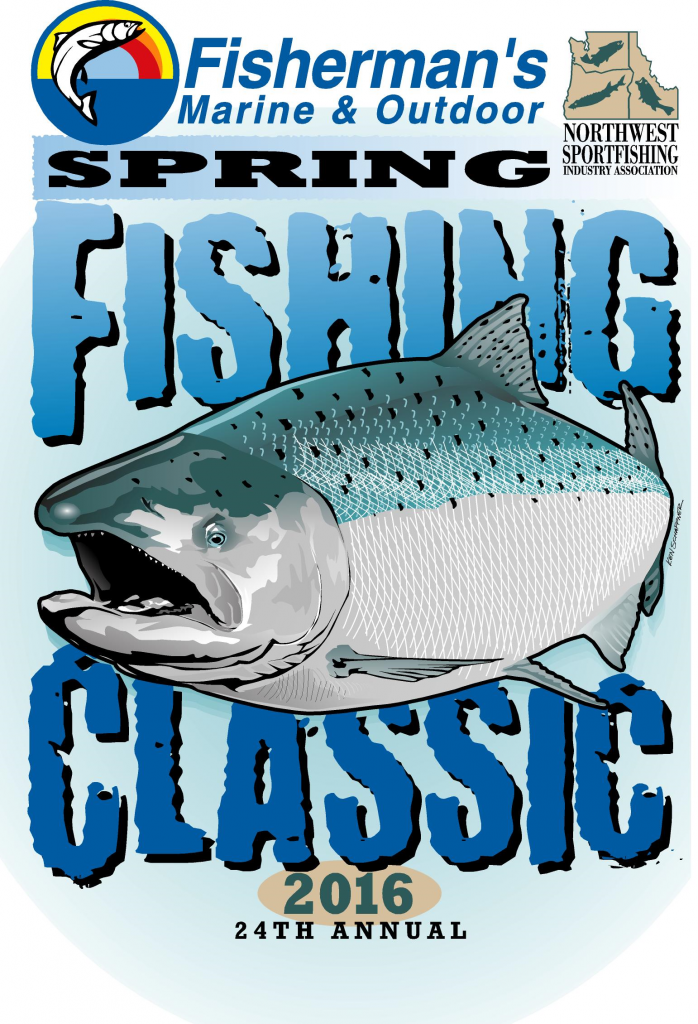 More than 200 anglers came out this past Saturday April, 9th for the 24th Annual Fisherman's Marine & Outdoor Spring Fishing Classic for a shot at thousands in prizes for catching Spring Chinook. Although the tournament operated under an emergency closure of the Columbia, some teams had some tricks stored away for fishing the tributaries. This year's Spring Fishing Classic was another success as tournament participants were able to raise nearly $60,000 that will help the Northwest Sportfishing Industry Association enhance Sportfishing opportunities, defend hatcheries, and promote fish conservation measures.
Teams fished the Willamette, Multnomah Channel, and the Cowlitz, just to name a few, and the successful teams were able to dial in on some springers in the tributaries. At close of weigh-in at 4:30 on Saturday at Camp Withycombe in Clackamas, a total of 11 fish were weighed by weighmaster, Don Swartz. Afterwards teams came together for the weigh-in wrap up, dinner, awards ceremony, and drawing of the Wille Boat driftboat raffle winner.
NSIA Executive Director, Liz Hamilton proudly thanked the tournament's title sponsors, Fisherman's Marine & Outdoor who presented the event and Willie Boats who donated a beautiful driftboat for the raffle. These companies consistently go above and beyond for the sportfishing industry and there is no doubt that the recreational fishing landscape would look vastly different without the hard work of they put in every day. Other sponsors were Okuma Fishing, TICA, Pure Fishing, Fred Meyer, R & D Baker Trailers, Scotty, Lowrance Electronics, Salmon Trout Steelheader Magazine, Northwest Sportsman Magazine, the Freshwater News, D & G Bait who presented our $500 Big Fish prize, and Stevens Marine for providing dinner for event anglers.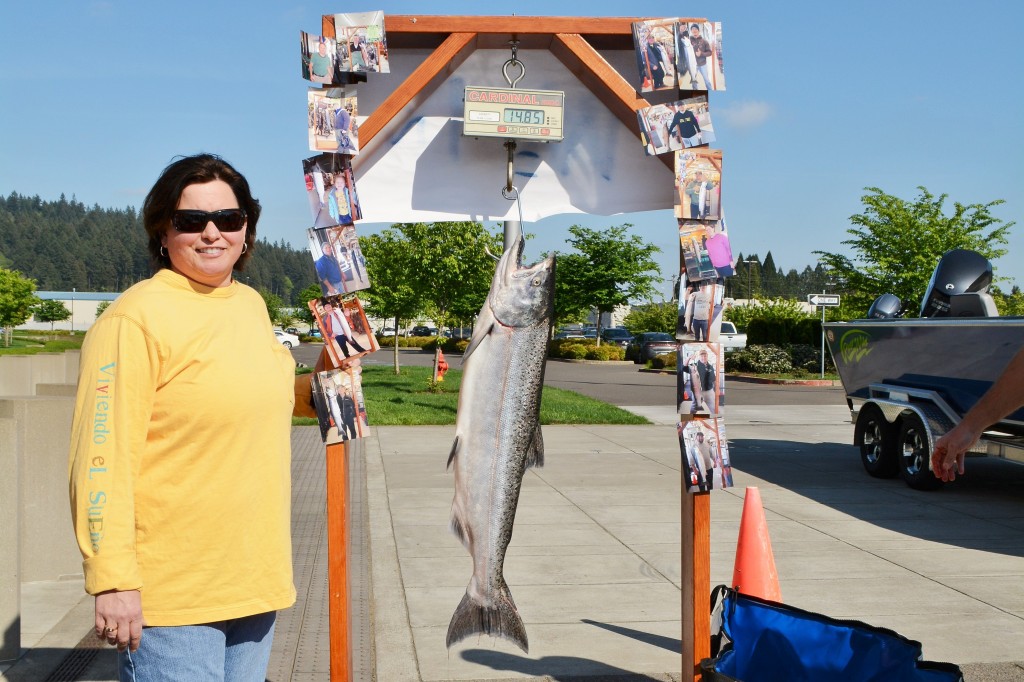 Oregon State Senator, Fred Girod fished the tournament and was kind enough to say a few words at the awards ceremony. Mr. Girod reminded tournament anglers that recreational fishing is a multi-billion dollar industry in the Northwest, and anglers should make their voices heard in government in order to protect the industry and long-held traditions of fishing in Oregon and Washington.
Tons of door prizes were given away including everything from Danielson crab traps, rod and reel combos, rain gear from Grunden's, and thousands of dollars' worth of prizes generously donated by Fisherman's Marine and Outdoor.
The big fish winner of the $500 check sponsored by D&G Bait was Staci McAdams, who weighed in a Spring Chinook at a whopping 22.90lbs. Local guide Terry Mulkey put Staci on the fish, and led her to an additional prize package of a Lamiglas Pro-Kwik rod, a Daiwa Saltist line counter reel, and a Plano tackle box.
Team North American Hunting Competition, captained by Jason Berg with crew members Deborah LeBer & Suzy Seida took home the first place prize by weighing in three chinook totaling 35.95lbs. They went home with a prize package valued at $1,700 retail consisting of Lamiglas Pro-Kwik rods, Daiwa Saltist line counter reels, and Plano tackle boxes.
The Mulkey's Guide Service team, captained by Terry Mulkey and crewed by Randy & Staci McAdams brought in a combined weight of 30.35lbs and took home a set of three Okuma Guide Select rods, Okuma Coldwater low-profile line counters loaded with 50lb braided Tuf-Line, a package valued at more than $1000.
Northwest Marine Solutions, Captained by Kyle Buschelman and crewed by Alan Best & Brandon Sorensen landed 23.40lbs of Chinook and took home a set of three Lamiglas Redline rods and Daiwa Millionaire reels loaded with Tuf-Line, a set worth $600 retail.
At the conclusion of the celebration, the Willie Boat raffle ticket was drawn. The ticket number is 3198, sold at the Tigard Fisherman's Marine and Outdoor. Congratulations to the big winner on their brand new Willie Boat!
The 24th Annual Fisherman's Marine & Outdoor Spring Fishing Classic was a great success, and there was a lot of fun to be had by all.  Thank you to all our sponsors, donators, teams and volunteers who participate in order to be a part of the solution, recognizing the need to protect our Sportfishing culture and economy.  See you next year!
The winner of the Willie Boat drawing held ticket #3198