NSIA's 17th Annual Buoy 10 Salmon Challenge Raises Funds for Sportfishing
Time: 4:30PM
Location: Clatsop County Fairgrounds, Astoria, OR
NSIA's Buoy 10 Salmon Challenge Raises Funds for Sportfishing

Some of the Northwest's best anglers came together recently at the biggest salmon fishery in the lower 48 for the Northwest Sportfishing Industry Association's 17th Annual Buoy 10 Salmon Challenge. After all the fish were weighed and awards presented, NSIA was able to raise nearly $50,000 that will go towards enhancing fishing opportunities throughout the Northwest.
Persistent anglers found success at Buoy 10 on Friday, and, in spite of the challenging conditions, many teams were able to find bites and put fish on the board. The event was a success not only for the good catch rates but also for th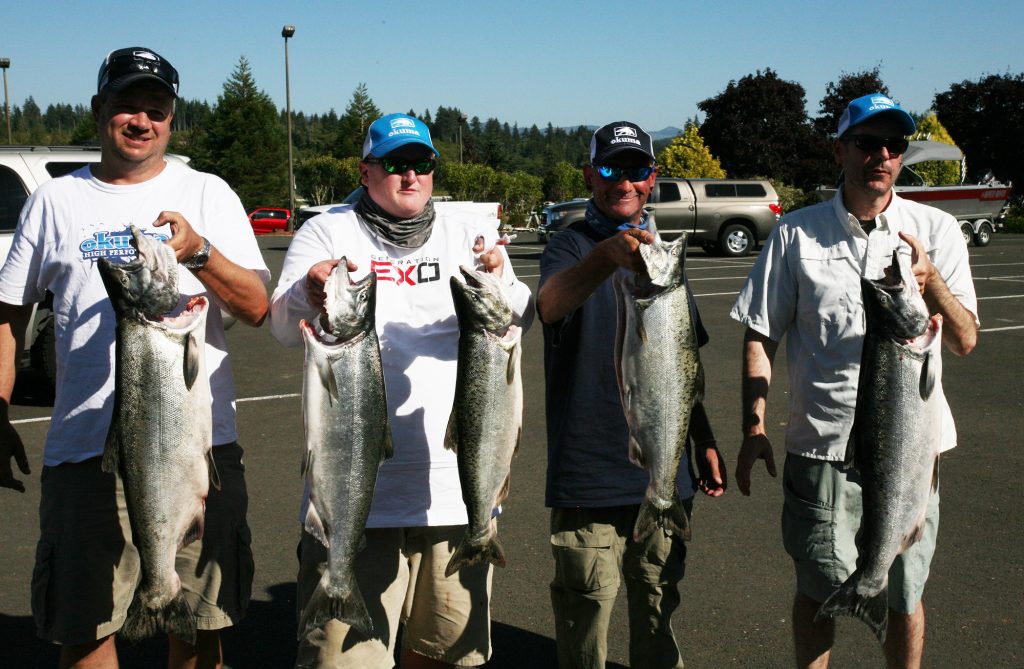 e significant amount of money raised that will be instrumental in promoting sportfishing and protecting healthy fisheries that will continue to provide angler opportunity for years to come.
NSIA Executive Director, Liz Hamilton says of the tournament, "The Buoy 10 Salmon Challenge is not only the most exciting fishing tournament on the lower Columbia this summer, but it is also our most important fundraiser. We were able to raise funds that will go towards protecting and restoring healthy river systems, defending hatcheries and the millions of smolts they release each year as well as working to increase angler access to fisheries across the Northwest."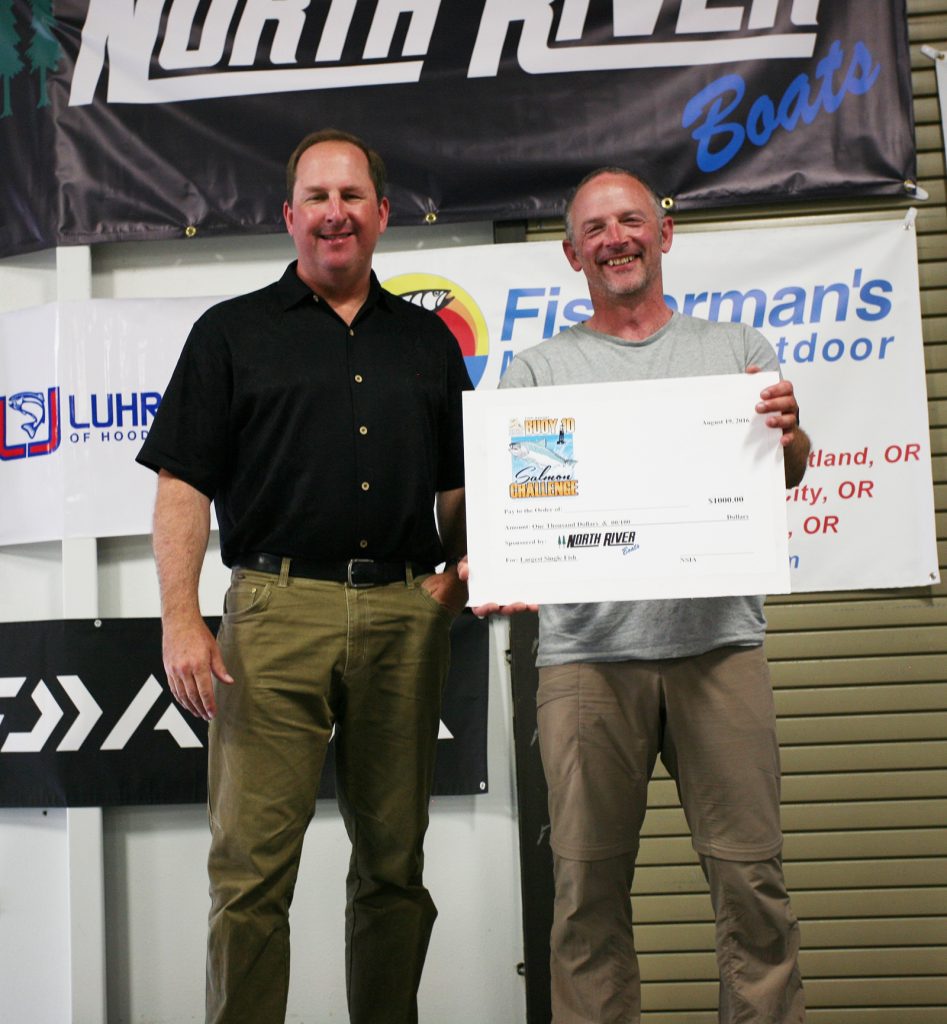 Anglers hit the water at sunup Friday Aug 19th when the more than 250 participants took to the Columbia in search of kings and silvers. After weigh in was closed, Team Trusty, captained by Glen Trusty, came in first place with an average team weight of 13.67lbs. per angler. Team Trusty was awarded a prize package of G. Loomis trolling rods and Shimano Tekota reels. Second place went to Team Raymarine captained by Dave Lee who led his crew to a 12.8lb per angler team weight, and they took home prize combos that included Lamiglas rods and Daiwa Lexa linecounters. To round out the top three was Team Okuma, led by Steffen Gambill, who bought in 10.82lbs of fish per person and won a TICA rod and reel combo set.
Todd Staver brought in the biggest fish of the tournament with a Chinook weighing in at 18.2lbs which brought with it a check for $1000 donated by North River Boats.
Even though anglers enjoyed such a great day on the water, the excitement was far from over as tournament anglers then got a shot at the more than $15,000 worth of cash and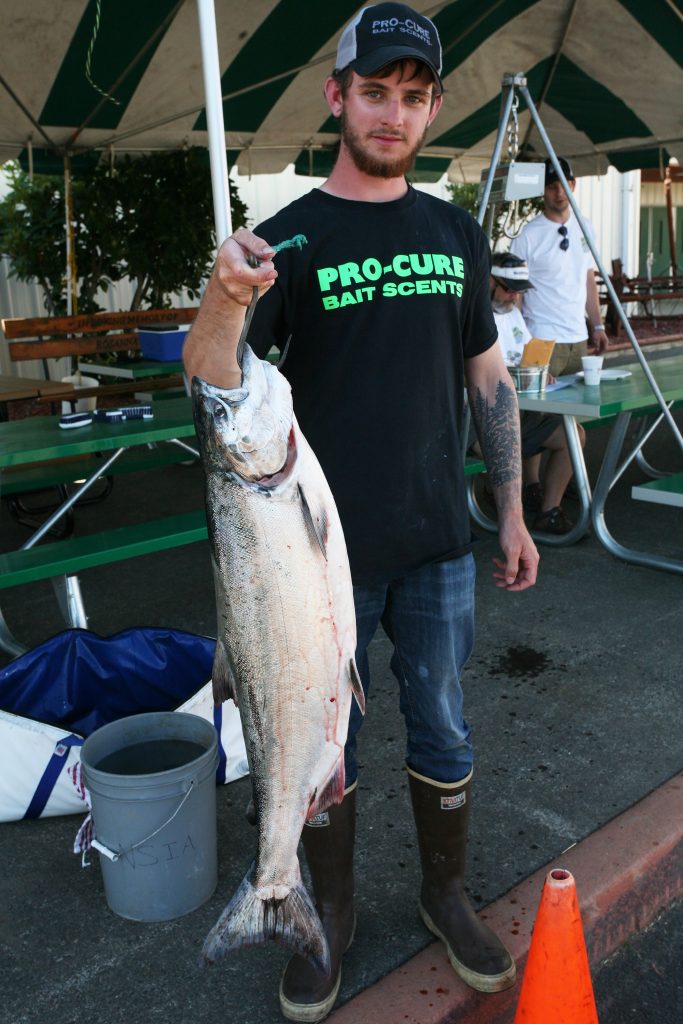 prizes given away by NSIA. After the door prizes, silent auction, and big fish and team prizes nearly every tournament participant went home with a new piece of gear.
NSIA would also like to thank their sponsors for making this event a success. This support allows NSIA to have a strong voice in local, state, and federal governments, advocating for policies that keep the sportfishing industry thriving in the Northwest.
Remember these companies and brands when you're stocking up for your next trip:
Atlas Mike's
Berkley
Brad's Lures
Cabela's
Daiwa
Dick's Sporting Goods
Duckworth
Fisherman's Marine & Outdoor
Folbe Products
Fred Meyer
Freshwater News
G. Loomis
Lamiglas
Lowrance
Luhr Jensen
Maxima
North River Boats
NW Sportsman's Magazine
Okuma
Onyx
Penn
Raymarine
Shimano
Steven's Marine
Salmon Trout Steelheader Magazine
3 Rivers Marine
TICA
Weldcraft