Buoy 10 Salmon Challenge August 16, 2013
Time: 4 pm
Location: Camp Rilea - Warrenton, OR

Biggest Fish Prize sponsored by: 

2nd Biggest Fish Prize sponsored by:
The Guides Forecast
Weigh-In Sponsor:

The 14th Annual Buoy 10 Salmon Challenge was held August 16th in Astoria Oregon, drawing nearly 300 participants to Astoria and surrounding towns to celebrate the large returning run of fall Chinook to the Columbia basin.  The event was a success, raising a signifigant amount to protect sportfishing opportunity and fish conservation! The derby began the evening of the 15th with 61 enthusiastic team captains (and most of the participants) checking in for the derby. There were several hundred in attendance. NSIA staff and volunteers greeted the captains with t-shirts and team bags which included; hooks from Eagle Claw, bait scent from Pro-Cure, Daiichi hooks, lures from Luhr Jenson and Yakima Bait, fishing line from Maxima, gear bags from Cabela's, bait scents from Smelly Jelly and Pautzke and discount cards from Dick's Sporting Goods.  The captains were then greeted by Representative Bill Kennemer. Weigh master Don Swartz discussed the rules of the derby. The night concluded with a bucket raffle featuring a Lowrance fish finder/GPS unit valued at $500.00.
The morning of the 16thAstoria docks where lined with fisherman launching their boats and racing to their first light fishing grounds. Having the best Fall Chinook run in ten years certainly brought coolers and coolers of fish to the weigh station in the afternoon.
By 3:00 pm the teams started to arrive at CampRilea to weigh-in.  Following weigh-in, the fishermen piled into Warrior Hall for awards, prizes, a silent auction and dinner.
The big fish winner of the $1,000 check sponsored by Tica was Alan Anderson.  Entrants are required to gut and gill their catch and Alan's weighed in at 26.1 lbs!  Wade Ramsey brought in the second largest fish with a weight of 24.95 lbs, winning the cash prize of $500 supplied by The Guides Forecast!
The first place team was captained by Captain Matt Hungerford and had an average weight of 27.07 lbs per angler.  His crew included Brian Young, Eric Havland, Bill Havland, and Jay Daly.  Their winnings included microfiber jackets from Fisherman's Marine & Outdoor, G Loomis rods, Shimano reels with line counters, Lamiglas hats and a case of Maxima line.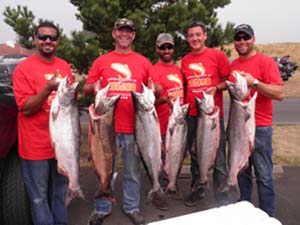 1st Place Team: Matt Hungerford, Brian Young, Eric Havland, Bill Havland, Jay Daly
The second place team sported an average weight of 21.74 lbs of fish per angler and was captained by Jason Hambly. The crew included Josh Cooper, Dave O'Lear, and Jake Reardon.  They were the winners of Lamiglas rods, Penn reels and Maxima line.
The team taking 3rd place was captained by Scott Weedman with an average weight of 20.25 lbs of fish per angler.  The crew included Kent Alger, Tom Sakamoto, Dave Eng and Cindy Thompson.  They won Wright & McGill rods and Maxima line.
The winners of the Individual Total Catch prizes are as follows:
1st     32.40 pounds     Bill Havland
2nd   29.95 pounds     Jay Daly
3rd    24.50 pounds     Jamahl
4th     28.95 pounds     Zach Echert
5th     27.35 pounds     Mike Bell
6th     27.05 pounds     Eric Havland
The evening concluded with a Dutch auction which consisted of 17 grand prizes: One $100 Bonus certificate from Dick's Sports, 15 $50 Bonus Certificates from Dick's Sports and a Little Chief Smoke House Smoker.  Dutch Auction bags also included fish clubs from Danielson, Boa Rigs from Owner Hooks, tuna gel from Pro-Cure, copies of STS Magazine, line from Maxima, flashers from Yakima Bait, cut plugs from Brad's Lures, lures from Worden's, fishing towels from Cabela's, more Dick's Sporting Goods Bonus Coupons, and mooching rings from Danielson.
As always, a drawing was held for every team that was present.  Free prizes included everything from crab traps, to Shimano Rods!
This years Buoy 10 Salmon Challenge was a great success thanks to our sponsors and donators;
Adventure Bound, All Sports, Alpen Optics, Beau Mac, Big Rock, Bimart, Birchwood Casey, Blade Tech, *Brad's Lures, *Cabela's, Catcher Company, D & G Bait, Daiwa, Danielson, *Dick's Sporting Goods, *Eagle Claw, Elliott Sales/Geiger, Farwest Sports, *Fred Meyer, *Fisherman's Marine, Flambeau, Folbe Products, Folsom, *G Loomis, Glacier Glove, *Helly Hansen, Kershaw Knives, *Lamiglas, Leisure Sales, Luhr-Jensen, *Lowrance, *Maxima, Morton & Associates, Mustad, Nikwax North America, *Northwest Sportsman, Okuma, Owner Hooks, Pautzke, Peet Shoe Dryer, Pelican Products Inc., Plano, Propel Insurance, Pro-Cure Inc., *Pure Fishing, Rivers West, *Salmon Trout Steelheader, Scotty, Seattle Sports, *Shimano, Silver Horde, Smokehouse Products, *Stevens Marine, Super 8 Long Beach, *The Guides Forecast, The Reel News, Three Rivers Marine, *Tica, *Weldcraft/Duckworth, Wells Creek Outfitters, Willapa Marine, Wright &McGill, Yakima Bait
*Indicates these companies were also presenting sponsors.
See you next year, and thanks again to those who participate in order to be a part of the solution, recognizing the need to protect our sportfishing culture and economy!
NSIA President, Dan Parnel, shared an excellent video of his day fishing the Buoy-10 Salmon Challenge.  It's fun to watch and well-done.   Enjoy!  http://www.youtube.com/watch?v=FvVJrq2Yrxk