17th Annual Washington Banquet
Time: 5pm - 10pm
Location: Twin Lakes Golf & Country Club
Washington Sportfishing Industry Members and Advocates Raise Nearly $50,000 in Support of More Fish and Better Fishing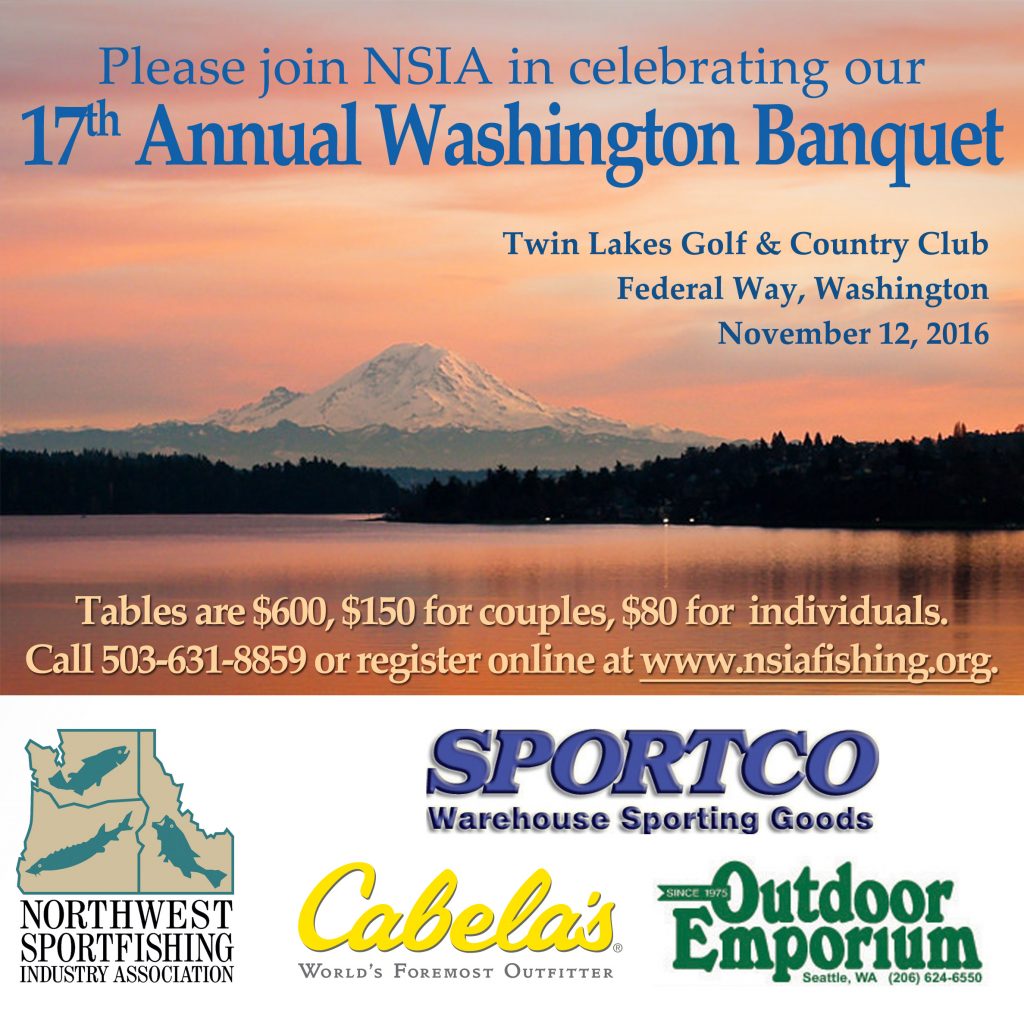 The Northwest Sportfishing Industry Association is celebrating a very successful banquet and fundraiser in Washington over the weekend. For the 17th year, more than 150 of Washington's sportfishing industry leaders, advocates, and supporters of strong fisheries came together for an opportunity to build relationships with colleagues from around the state and raise important money that will go towards NSIA's mission of enhancing fisheries across the Northwest.
Attendees joined NSIA at Twin Lakes Golf and Country Club for a gourmet dinner and several raffles, auctions, and games. After dinner was served and all the auctions closed, those in attendance were successful at raising nearly $50,000 in support of NSIA, funds that will be used to advocate for restoring salmon and steelhead runs in important Washington rivers, increased fishing opportunities for all anglers, and to maintain the recreational fishing industry's vital role in the region's economy. All the money raised would not have been possible without the dedicated work of all the volunteers, staff, and the banquet committee who put the event together, and a special recognition is in order for the event's title sponsors, Sportco, Outdoor Emporium, and Cabela's who donate significant staff time, products, and money to make the event a success.
Veterans of the sportfishing industry awarded Kiley Brehm, a rising leader in the industry and a sales representative for Don Coffey Company, with the Buzz Ramsey Footsoldier Award. The Buzz Ramsey Footsoldier Award is given each year to a person who has made outstanding contributions to enhancing Washington's sportfishing industry, and Kiley has proven himself to be a strong industry member over the years by getting involved with important political causes and by organizing fundraising events.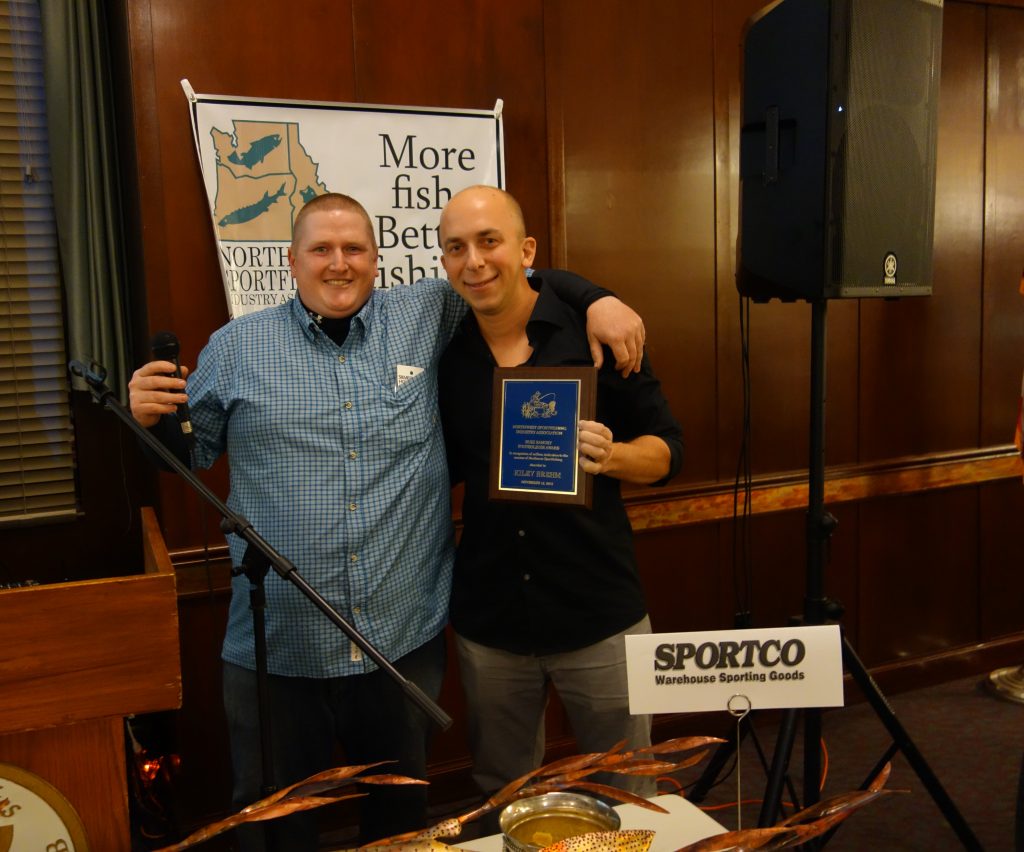 Event attendees had the opportunity to participate in exciting auctions that included items such as guided fishing and hunting trips, vacation getaways, and one-of-a-kind pieces of outdoor themed artwork. Professional auctioneer and Washington duck hunting guide, Clint White, ran the auction and Seattle area ESPN radio star, Tom Nelson was the emcee.
Proceeds from the event benefit The Northwest Sportfishing Industry Association which was founded in 1993 by a group of sport fishing industry business leaders who understood the need for a strong voice in the local, state, regional and federal governments. The NSIA is dedicated to the preservation, restoration and improvement of sport fisheries and the businesses dependent upon them.
Click Here to View a Banquet Photo Album
NSIA's 18th Annual Oregon Banquet is set for December 3rd at the Holiday Inn at the Portland Airport Hotel. For tickets, contact NSIA at 503-631-8859.
Big thanks to our corporate sponsors of this event: Sportco, Outdoor Emporium, and Cabela's
Thank you to all of our donors and everyone who made this event possible:
Adams Arms
Alderbrook Resort & Spa
Alex Cheeley
Allen Company
Alpha Graphics
Amie Kilcup
Ashley LewisAuburn Sports & Marine
Beau Mac
Benchmade
Blade Tech
Bradley Smokers
Brianna Bruce
Brown & Hailey
*Cabela's
Canlis Restauraunt
Captive Spirits
CBS Radio
Clint White
Columbia Sportswear
Cumings Nets
Curtis Blunck
Danielson
Diversified
Dr. Slick Company
Eli Liske
Emily Chocolates
Entercom Radio
Eric Leonard
Folbe
Frank Amato
*Fred Meyer
George Holthe
Grundens
iHeart Radio
Jeff Morton
Josh Hughes
Kershaw
Leisure Sales
Little Canyon Shooting Club
Lonnie Schmidt
Maschmedt & Associates
Mike Alquist
Muck
NW Sportsman Magazine
NSIA
NW Trek
Okuma
*Outdoor Emporium
Panther Martin
Phil Russell
Plano
Pro Troll
Pure Fishing
Quinault River InnRanger Products
Remington
Ryan Brown
Scotty
Seattle Mariners
Silver Horde
Simms
Smokehouse Products
*Sportco
St. Croix
Stacy & John Ringer
Stansport
Tap Room
*Three Rivers Marine
Washington Banquet and Auction Committee:
Gabe Miller– Co-Chair
Amie Kilcup-Co-Chair
Alex Cheeley
Ben Connelly
Dan Parnel
Dick Figgins
Fabian Lomas
Jan Williams
Jeff Morton
Josh Hughes
Kevin Hollingsworth
Kiley Brehm
Lonnie Schmidt
Matt Bley
Ryan Reed