26th Annual Spring Fishing Classic A Great Success!
Time: 4:00 P.M.
Location: Holiday Inn - Portland Airport

NSIA and Fisherman's Marine & Outdoor
Reel Them in for
26th Annual Spring Fishing Classic!

Despite dire weather predictions more than 130 anglers braved the winds and rain on the mighty Columbia and its tributaries this past Saturday, April 7th, 2018 for the 26th Annual Spring Fishing Classic. They all had one desire driving them onto the choppy waters – catch the biggest spring Chinook they could haul in ("the tug is the drug!") to win the Biggest Fish prize. These intrepid men and women also had hopes of winning thousands in prizes at the annual derby presented by Fisherman's Marine & Outdoors and the Northwest Sportfishing Industry Association.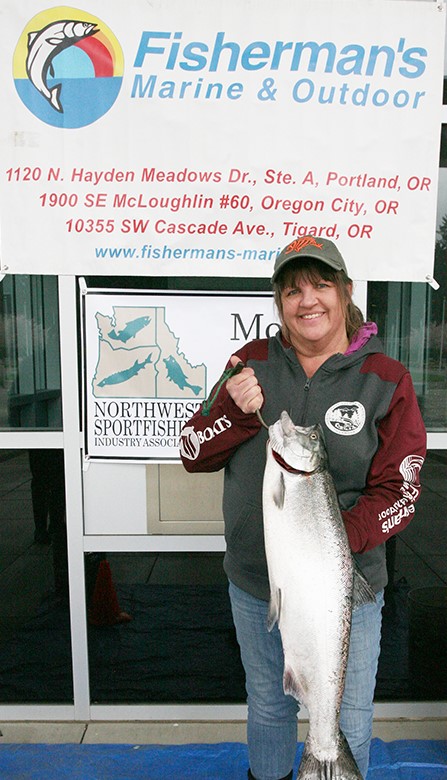 Thanks to the tenacity and enthusiasm of these anglers, the popular Spring Fishing Classic had another successful year, raising over $34,000 for sportfishing advocacy. These funds will help the Northwest Sportfishing Industry Association enhance Sportfishing opportunities, defend hatcheries, and promote fish conservation measures.
Teams fished the Columbia, Willamette, Multnomah Channel, and the Cowlitz rivers, just to name a few. Despite the high winds, several successful teams were able to bring in some gleaming springers. At close of weigh-in at 5:00pm on Saturday at Camp Withycombe in Clackamas, Oregon, a total of 12 fish were weighed by weighmaster, Don Swartz. Afterwards teams came together for a delicious BBQ dinner, an awards ceremony MCed by the pro-guide and fierce fish advocate, Lacey DeWeert. The end of the night saw the much-anticipated drawing for a Willie Boat driftboat, which went to the elated holder of the winning ticket #2683.
NSIA Executive Director, Liz Hamilton proudly thanked the tournament's title sponsors, Fisherman's Marine & Outdoor who presented the event and Willie Boats who donated the beautiful driftboat for the raffle. These companies consistently go above and beyond to benefit sportfishing and there is no doubt that the recreational fishing landscape would look vastly different without the hard work of they put in every day. Other sponsors were Clackacraft, who donated the trailer for the Willie Boat, Fred Meyer, Freshwater News, Lamiglas, Northwest Sportsman Magazine, Okuma, Pure Fishing – Berkley, Salmon Trout Steelheader Magazine, Scotty, Stevens Marine, TICA USA, and D&G Bait who sponsored our $500 Big Fish prize.
We would also like to thank the many companies that contributed to our door prizes and auctions. Their generous product donations provide immense support for NSIA's work and we absolutely could not do it without them. Thank you to: BeauMac, B.S Fish Tales, Caddis, Catcher Company/ SmellyJelly, ColdPruf Base Layer, Coleman, Columbia River Knife & Tool Company, Comal Tackle, Cousins, Coyote Vision USA, Daiwa, Don New, Drift Creek Outdoors, Eagle Claw/ Wright & McGill, Evergreen Pacific Publishing, FishEng, Frank Amato Publishing, Glacier Gloves, Grundens, Stanley Jigs, Hawken Fishing, Igloo Products, Ironwood Pacific Outdoors, Leisure Sales, Leupold & Stevens, Life Industries Corporation, Mustang, Native Eyewear, Nikwax North America, Optronics, Oregon Tackle, Owner American Corporation, Pautzke Bait Company, Poulsen Cascade Tackle, Pro-Cure Bait Scents, Pro-Troll, Rio products International, Sea-Dog Line, Seattle Sports, Security Equipment Corporation, Silver Horde, Smokehouse Products, Tempress, The Danielson Company, TTI Blakemore, Turvey Metals, Wilco Farm Stores, Willapa Marine, & Worldwide Distributors. We encourage the sportfishing community to support the companies that support our work to secure better fisheries.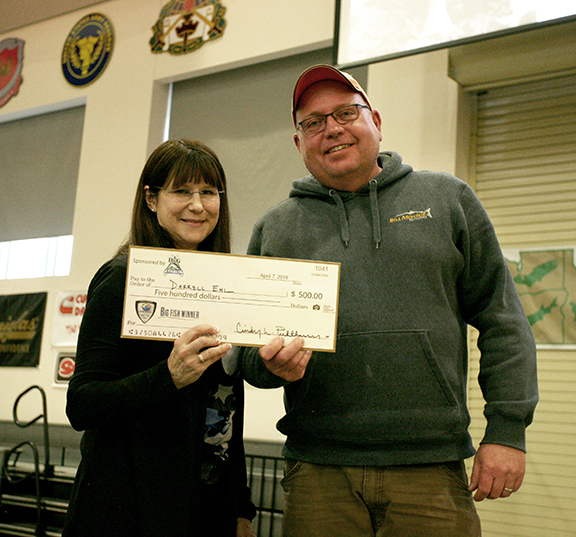 The D&G Bait Big Fish winner was Darrell Ehl with a springer weighing in at 12.15 pounds, expertly guided to the winning fish by boat captain, Marshall Strutz. Darrell won a $500 check plus a prize package consisting of a Lamiglas Kenai Kwik rod decked with a Daiwa Lexa Line Counter reel, Daiwa J-Braid line and a Mustang Auto-Inflatable PFD.
Jerry Spiess captained his team of Sky Masters and Dave Haukeli to victory, winning this year's First Place Team prize with a team weight of 34.70. The First Place team walked away with a prize package valued over $1600, of Lamiglas Kenai Kwik rods, Daiwa Lexa line counter reels, J-Braid and Mustang Inflatable PFDs.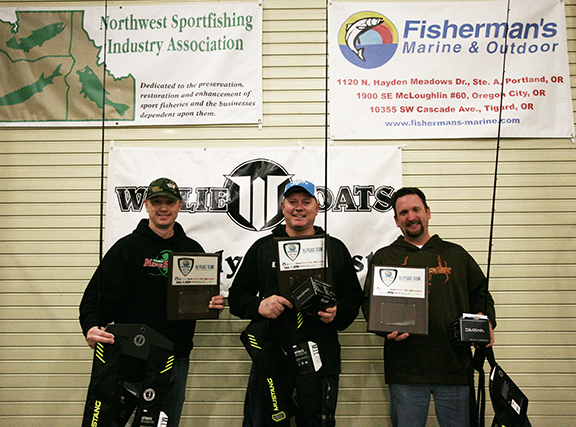 Marshall Strutz's team, crewed by Darrell Ehl and Joel Owen, won Second Place Team with a total weight of 33.20. The 2nd Place prizes, valued over $800, included Lamiglas X11 rod outfitted with a Daiwa Millionaire Level wind reels, J-Braid and Coleman Revel Hydration Packs.
Jerry Spiess brought his other team glory as well, winning Third Place Team with Alex Brauer and Trey Carskadon, with a team total weight of 21.70. Their 3rd Place prize package consisted of Okuma Guide Select rods paired with Epixor reels, Spectra PowerPro line and Anchor Caddie rope bags stuffed with Atlas Mike's Bait Brine – with a total value over $700.
The 26th Annual Fisherman's Marine & Outdoor Spring Fishing Classic was a great success, and there was a lot of fun to be had by all. Thank you to all our sponsors, donators, teams and volunteers who participate in order to be a part of the solution, recognizing the need to protect our Sportfishing culture and economy. See you next year! And a great big thanks to all who proved the mettle of Northwest anglers by braving the weather to participate in our derby! We look forward to seeing you next year!
Please check back here for a great video collage of the event.
Willie Boat went to an ecstatic new owner!!
To wrap up the evening, a drawing was held for a beautiful Willie Boat, mounted on a Clackacraft trailer and including two Tempress seats -a package valued near $10,000. The winning ticket number, 2683, was sold at the Delta Park Fisherman's Marine and Outdoor. Congratulations to the big winner on their brand new Willie Boat!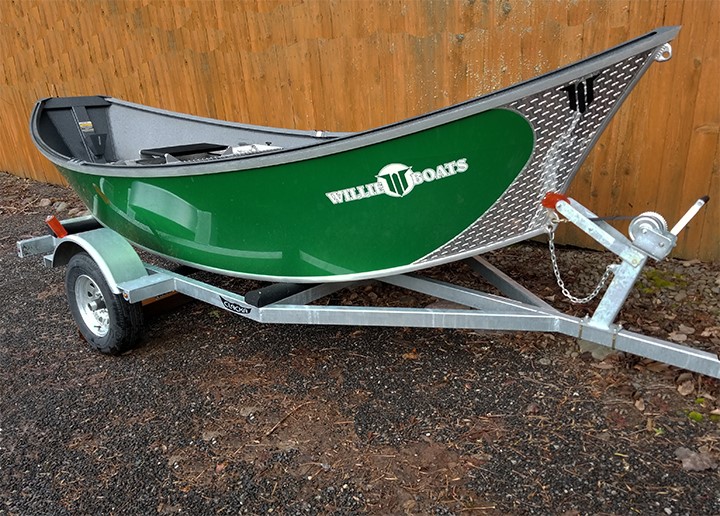 Thank you to our faithful and generous sponsors